Well-lit outdoor space improves our capacity to get many things done and makes us feel secured. It also drives production and beauty in the outdoor spaces when it's well-structured, safe, secure, and comfortable.
If you want to give a boost or create a restful ambiance on your patios and decks, installing outdoor lighting will guarantee elegance. With a well-lit outdoor area, you're giving your exterior a look that is more vibrant and stunning from the sidewalk.
Here are the tips on how to improve your outdoor space.
An illuminated driveway creates a pleasant welcome to visitors while also ensuring your safety when trying to park at night. By installing this in your exterior space, it will create an aura that is welcoming to the guests.
Lanai Lights Captiva Model and Palm Beach Model can emit 2,000 Lumen at full bright white. Its fixtures are made with the same proven 3M composite which can last for decades.
Add a glimmer of lure to your garden space with a lighting fad that gives a homely, moon-lit ambiance that also forms limelight in branches of the surrounding trees. This will also augment the illustrated space of your patio allowing you to catch a glimpse outside the patio edge and assembling the illusion of a bigger area.
Fountain lights are noteworthy in order to portray all the magnificence and water movement of your fountain at home. Although the sun rays mirror the water and give stunning gleams and light effects, in the daytime many features are overlooked as we cannot emphasize the distinct features through reasonable use of light.
So it is during the nighttime when it is feasible to enrich all the elements of an architectural fountain. Adding fountain lighting allows us to recreate with diverse kinds of glares and colors so we can accentuate water movements and features in the absence of natural light.
Pathway lighting is essential for a lot of reasons. Without sufficient lighting, pathways may appear dangerous, intimidating, or daunting.
A well-lit pathway is instantly perceived more attractive and secure. On top of that, pathways with a palm beach lighting is a contemporary and engaging style that makes your spaces stylish and functional.
Lanai Lights Captiva Model and Palm Beach Model can emit 2,000 Lumen at full bright white. Its fixtures are made with the same proven 3M composite which can last for decades. This lights is perfect for your pathway and driveway.
Setting great lighting is a significant absolute touch for sunrooms. It will fix your mood and provide your area with more value.

Attentively selecting your nocturnal lighting will not only let you relish your sunroom at any time but also provide abundant possibilities to create the desired atmosphere by altering the style and arrangement of your lighting.

Lanai Lights Captiva Model and Palm Beach Model can emit 2,000 Lumen at full bright white. Its fixtures are made with the same proven 3M composite which can last for decades. These lights have all the highest grade electrical ingredients as our new models including 50,000 continuous hour rated usage LEDs that can last more than 20 years with Color Pixels of more than 16 Million.
The table bar lighting also plays a crucial role in promoting the desired ambiance at home or business establishments like a restaurant. The warm, friendly, romantic surroundings uplift guests to take a sip of wine.
Also, table lights make the face more stunning because of the lighting effects. This provides the identical warm, cozy impact as a campfire.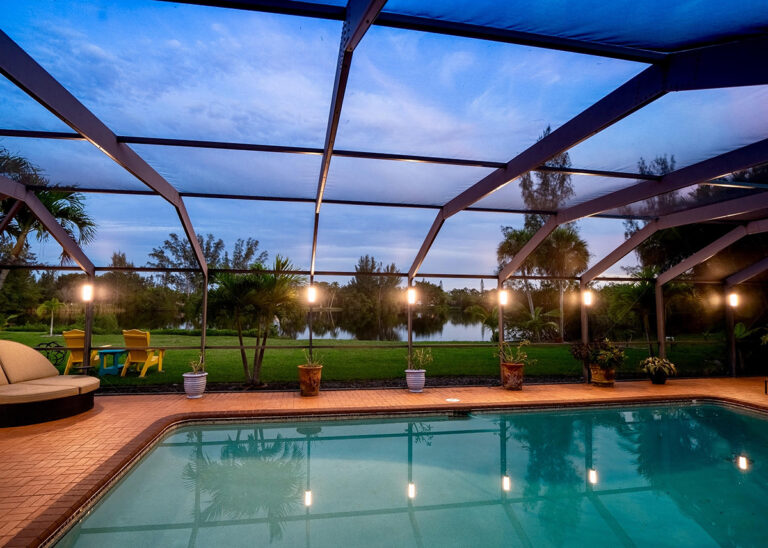 Installing a Pool Cage with a Palm Beach Lighting and Captiva Model will give you a great value of time and money. Add a definitive touch with elegantly planned lighting that will complement your pool area, and maximize the usefulness of your asset at night.
These lighting has remote control, WIFI, dimmable and automatic operation.
Security / Vicinity Lighting
Adding a Security or Vicinity lighting that is operational and aesthetically attractive in your property is more than pleasing. With a palm beach lighting in the vicinity, it can give an indoor green wall in the indoor space that requires natural lighting, an energy-efficient solution that helps with plant growth, and a cost-effective indoor plant lighting key.
When a tiki hut is properly lit, it will stimulate a mood of enigma and exploration and convey visitors into an equatorial oasis. However, selecting the suitable lights for a Tiki Hut is not always effortless when there are endless options.
Lighting options for a Tiki Hut like the palm beach lighting have three major categories such as Polynesian, Nautical, and Contemporary. You may want to take the time to consider the theme you desire before deciding which light to use.
Lanai lighting can keep your home from indifference and obscurity during the nighttime. All that is needed is to discover the lighting blend that goes completely with your area.
In complement to the added protection, outdoor deck lighting can help stop thieves or burglars from entering your property since your house or deck is well lit. Having an outdoor deck lighting will immediately enhance the area's general aesthetics while enriching the atmosphere of your whole backyard.
Make your fire pit area the site to be on a warm summer's night – that way, you won't have to fret about someone falling or getting injured in the dark.
All you need to do is take evaluate your yard and figure out which lighting designs would suit it best.
Installing Boat Dock lighting benefits you by ensuring your security and safety. It can also help create a great spot for contemplating with your guests. The dock with a palm beach lighting will surely turn your typical outdoor space into something remarkable.
Dock lighting will also benefit your pocket since the lighting products from Lanai Lights last longer and use less power.
Lanai Lights offers Sea Turtle-Safe & Friendly Lighting. Sea turtles are protected by the Florida Marine Protection Act as well as the Federal Endangered Species Act. Sea turtle-safe lighting is mandated by local and federal law, as lights can disturb nesting sea turtles and their hatch-lings. This is a specialty lighting fixture that uses LED lights that comply to the specifications for coastal beach lighting.
Outdoor kitchen lighting creates a crucial role in producing an ambiance and of course, meets operational roles. When you add efficient lighting to your outdoor kitchen, you accentuate your backyard, brighten the area for food preparation, keep you and your guests secure by illuminating pathways, and create a perfect mood for entertaining.
We are a manufacturer of distinctive lighting products designed to enrich your outdoor living areas with bright, engaging, and reasonable light creations. Our Captiva Model is the only patented lighting system particularly invented to light screen enclosure spaces. Produced with high-quality materials and artistry, the exterior lighting from Lanai Lights looks fantastic, long-lasting, and weatherproof perfect for your outdoor lighting needs.
We persist with the set high measures as we constantly improve our fixtures with the most delinquent technology while maintaining 
Lanai Lights
 compatible with prior versions. With more than 8000 customers and 40,000 lights installed worldwide, we have established our expertise to serve with satisfaction to our clients over the years.